Braintenna Is Giving Away Free "Travelers" CD's!
-

Just Cover $5 Shipping-



Grab Your Autographed Copy Today!!
(DOMESTIC SHIPPING ONLY)
 Join the "Travelers" on our mission to the first 4 of the 9 planets. Our exploration begins with a visit to Mercury, Venus, Earth and Mars. The lyrics for each song will give you some information about each planet. Study the lyrics and learn everything you need to know about the first 4 planets. This information may serve you in the future!
 "Travelers " has the heaviest songs so far from Braintenna. The idea of traveling
through space and experiencing unimaginable situations drew inspiration on how dark, heavy and energetic these songs should be. Buckle up because Mercury, Venus, Earth and Mars will take you on a journey you have never experienced before. And this is only the beginning!
-Kyle
(Creator/Drummer)
 Come Travel In Space With Braintenna!
*What's Included: Autographed CD, Digital Downloads of Mercury, Venus, Earth and Mars, Travelers Stickers and a personal Thank You letter for all your support!!
Our shipping is just a flat $5 charge to send the cd to you!
 -I Will Autograph The CD For You-
There is nothing more metal than receiving a personally signed cd. You know the merch is coming from Braintenna and not some merch company that you don't know. We are DIY!!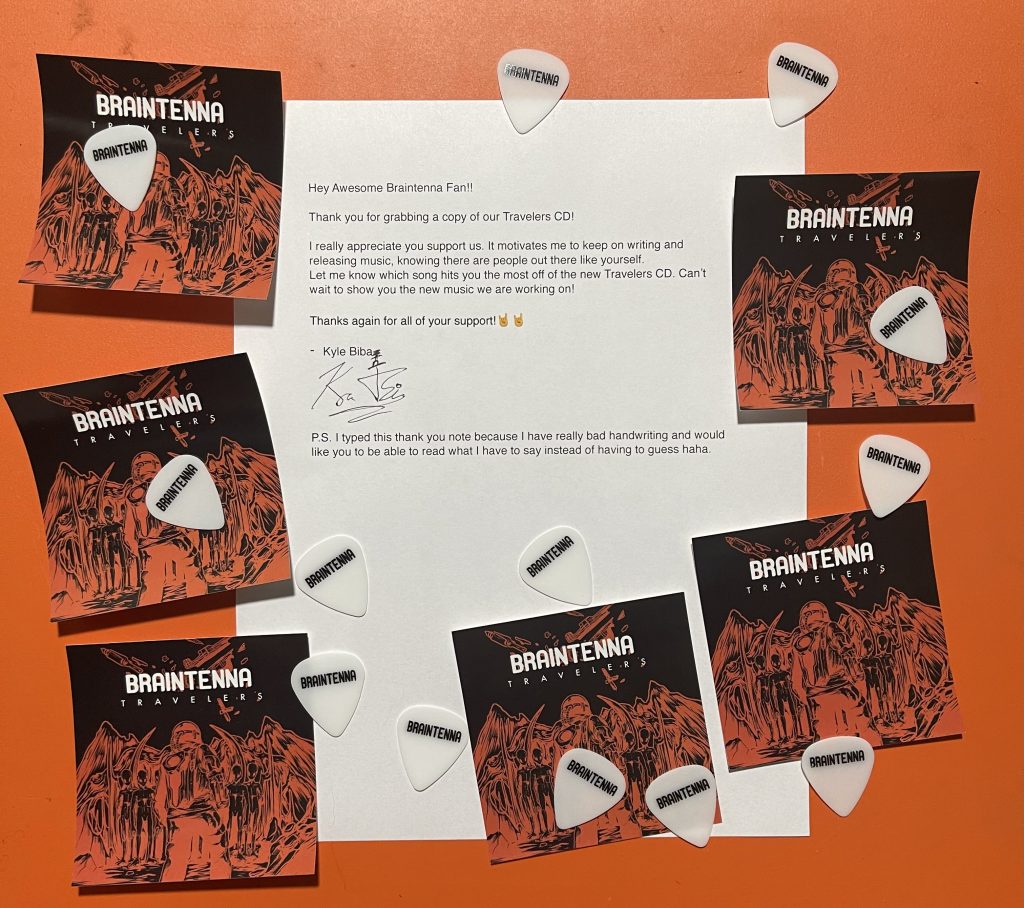 -A Personalized Thank You Letter, Guitar Picks and Stickers-
To show my gratitude, I will write a personal Thank You letter to you for all the support! Braintenna would not be able to do what we do without your funding and support and a simple Thank You email just isn't enough for me. I feel I really need you to know that I am really thankful. 
As soon as you complete your order, you will be sent to a thank you page where your digital downloads will be waiting for you!!
 -My Money Back Gaurantee-
If this turns out not to be for you, then I guarantee your $5 back within 30 days and no hard feelings.